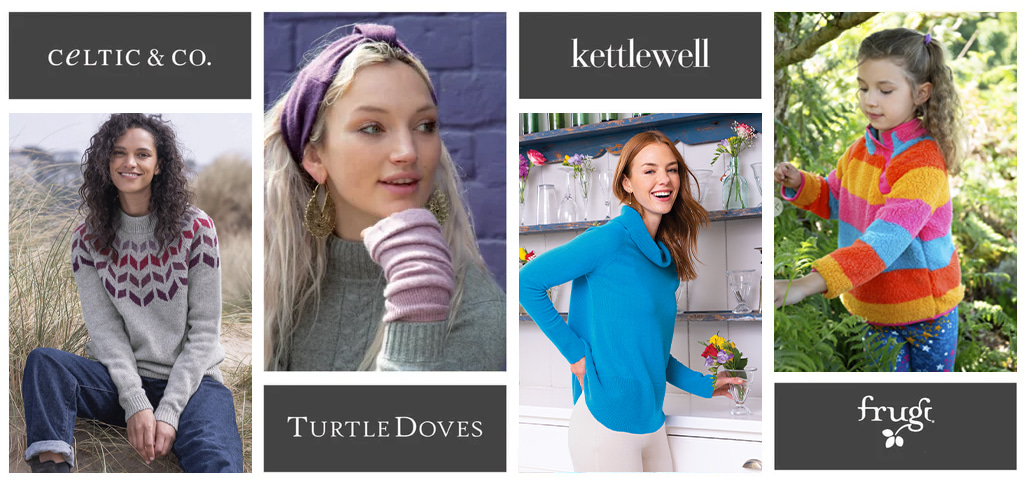 We're delighted to introduce you to our sister companies, Celtic & Co., Turtle Doves and Frugi – a family of ethical fashion brands with a focus on sustainability under the group name Refined Brands.
Founded by Nick and Kath Whitworth in 1990, and headquartered in Cornwall, Celtic & Co. is a pioneering, digitally native retailer of ethically sourced, natural sustainable knitwear, footwear and outerwear. The brand continues to stay true to its heritage, with in-house manufacturing of its sheepskin boots and slippers continuing to take place in Newquay, Cornwall.
Founded in 2009 by Kate and Graham Holbrook, Turtle Doves specialises in using post-consumer textile waste to create beautiful new garments and accessories. All of Turtle Doves products are manufactured in the United Kingdom from recycled cashmere, using discarded or donated woollens to produce a range including fingerless gloves, leg and wrist warmers, beanie hats and more.
Frugi was founded in 2004 by Kurt and Lucy Jewson after they struggled to find sustainable clothes to fit over reusable nappies. Now, Frugi is the UK's leading ethical and organic children's clothing brand available to buy online globally in 30 countries, with its range from newborn to ten years.
Refined Brands
Refined Brands is the leading digitally native portfolio of ethically sourced, natural and sustainable British brands. Built on the back of British heritage brands and high-quality local manufacturing, the group was founded in February 2021 by a group of committed retailers including Ben Barnett, former CEO of TFG London (owner of the Phase Eight, Whistles and Hobbs brands) and retail veterans Michael Rahamim and Lee Harlow. The group is funded by the team, in partnership with HSBC, Kvika Bank and Souter Investments, the family investment office of Stagecoach co-founder, Sir Brian Souter.
"The creation of Refined Brands was motivated by a desire to back founders and entrepreneurs who had built exceptional, planet-positive consumer brands, but lacked the human or financial capital to develop these to their full potential. My children had reached their teens and were increasingly passionate about building their wardrobes with real consideration for their environmental impact. It was through their unwavering advocacy and impassioned discussions that the fragments and pre-loved retailer All Good Things was born and the seeds of Refined Brands were sown."
Ben Barnett, Chairman

Join our loyalty program to receive weekly offers, rewards and competitions from Kettlewell and our sister brands.